The Budget System
The No-compromise construction solution for tight budgets - and tight schedules.
As the name suggests, Budget Buildings are designed to be the economical answer to any application where a simple building of 100-1,500² ft floor area is required. Rapid construction anywhere in Britain, using standard components means completion within days rather than weeks and at a known cost.
These versatile small buildings are ideal for most applications including engineering workshops, store, mess rooms, retail outlets and offices. A choice of wall finishes, doors and roofing materials enables you to specify a building tailored precisely to your individual requirements.
Accommodation Solutions
If your looking for a home office, workshop or even living accommodation then the walls and roof can be insulated to improve heat retention. The internal walls can then be easily clad in plasterboard or similar, creating a more welcoming environment. This is easy using our unique lining clips which can be inserted at the time of construction.
We reserve the right to change specifications without prior notice. A full up-to-date specification will be provided with your quotation.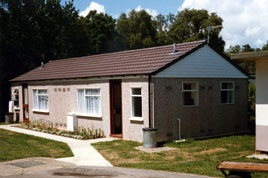 A Budget Building in use as accommodation - a testament to its versatility.
3" reinforced concrete walls protect this valuable pumping equipment.