The Enterprise System
Flexible, Fast & Economic: Enterprise is the clear choice for INDUSTRY, COMMERCE AND THE COMMUNITY.
Enterprise is Leofric's world-leading standardised building system. Capable of amazing levels of performance, the Enterprise system is pre-designed - right down to the doors and windows so our clients know exactly what there getting, when they are getting it, and at what cost.
Although Enterprise is a standardised building system it is amazingly versatile. The system has been used to build distribution centres, sports halls, car showrooms - even an operating theatre! Utilising dry materials and no wet processes, Enterprise is freed from drying time restrictions and can even be built in poor weather conditions. Our philosophy is that a building should be quick to erect, offer practical design and economic solutions, achieve permanence and have an appearance welcomed by users and planners alike.
A Permanent Asset
The key to the Enterprise system is in its steel structure - designed using the latest CAD systems to give a wide range of eaves heights and clear spans. When complete, the structure is enclosed to a height of 2.5m (8 ft) in concrete wall units - exclusive to Leofric Enterprise - and walls and roof are clad with profiled steel sheeting. Exterior wall panels are typically finished with natural stone granules, specifically chosen for hardness and weathering, in a choice of five colours. Roof and vertical sheeting is available in a new range of 29 Colorcoat HP200 colours and the addition of a 25° roof pitch allows for a real tiled roof if required.
Leofric Enterprise is designed to last a lifetime with virtually zero maintenance. Its construction time is less than half that of traditional buildings, giving a rapid return on your investment.
We reserve the right to change specifications without prior notice. A full up-to-date specification will be provided with your quotation.
Real-world examples of the
Enterprise System:
A Distribution Centre built in 40 days
An Operating Theatre in 25 days
A Bowls Clubhouse in 15 days
A Judo Hall in 15 days
A Car Showroom in 10 days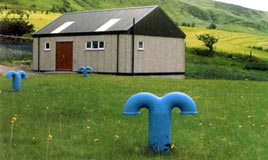 Chlorine dosing plant, built for Dumfries & Galloway Council Water Department in 10 days.

Printing works built for Dundee City Council.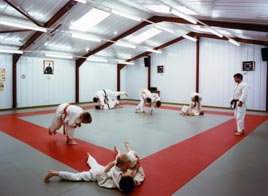 A Judo hall built in just 15 days. One of many potential leisure applications.