The EconoBuild System
Secure & attractive; the econobuild by Leofric is ideal for workshops, home offices & storage on a budget.
Buildings using the EconoBuild system can typically be erected in a fraction of the time taken for a 'brick-and-mortar' building, and can also be easily extended as your needs grow.
Flexible Specifications
The EconoBuild is available with a choice of five widths ranging from 8'7" (2.616m) to 16'8" (5.086m) and in 3 different heights up to 10'0" (3.0m) to eaves. The buildings can be specified in any length - in increments of 4' (1.2m). The appearance of the EconoBuild can be tailored to your exact requirements. We offer a choice of four aggregate wall coverings or our brick effect 'Rockwall' finish. This is complimented with a huge range of door and window options - in either timber, aluminium or maintenance free uPVC.
With all these options and many more, we are confident that the Econo-Build can meet your requirements - without breaking the bank. Call us now for a free consultation.
We reserve the right to change specifications without prior notice. A full up-to-date specification will be provided with your quotation.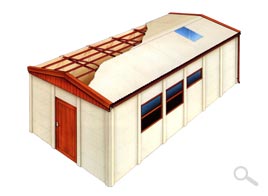 Click the illustration above for a more detailed look at the features of the EconoBuild.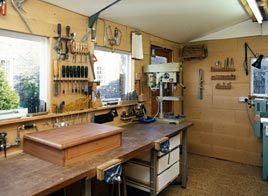 The EconoBuild can easily be lined for use as a workshop or home office.