The City (Economy Garages)
Practical & Highly affordable - without compromising on quality.
Leofric Economy garages are versatile, highly competitive, designed to be virtually maintenance free and available in a choice of aggregate finishes to harmonise with the immediate environment. Where co-ordination with surrounding materials is essential, wall ties can be incorporated for cladding of flank and rear walls with brick or stonework.
Rainwater goods to rear or front draining roof are fitted as standard. Galvanised steel bargeboards are fitted as standard to weather the roof and wall junction. These are maintenance-free, colour coated dark brown (or any other colour, if you prefer) to provide a neat trim appearance at high level, and are intentionally close fitting, rigid and shallow to deter vandals.
Simple foundations and rapid on-site construction make Leofric Economy Garages a fast and reliable addition to any development.
We reserve the right to change specifications without prior notice. A full up-to-date specification will be provided with your quotation.
To see our complete range of sectional buildings, please visit our Leofric Buildings home page.

Choice of four natural stone finishes
Full width galvanised-steel doors
'Vandal-proof' steel roof sheets
Maintenance-free steel bargeboards
Concrete door lintel for strength
Front OR rear sloping roof
Guttering & downpipes included
Choice of 4 lengths & 2 widths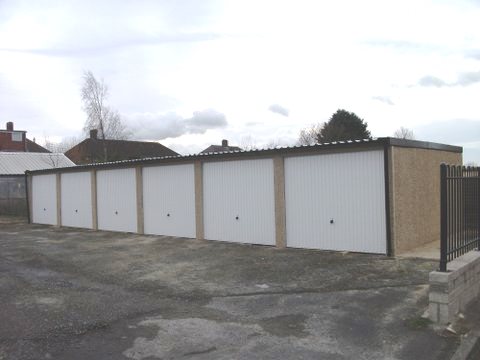 Economy garages are supplied with a maintenance free colour-coated steel door and bargeboards.