The Classic (System Garages)
the first choice for secure community parking across the U.K.
Industry-leading System Garages from Leofric have become the standard for concrete battery garages, also known as block format concrete garages. Originally developed by Marley, System is the product of over 50 years of research and development, attaining an unrivalled level of quality and security at a highly competitive price.
Designed for the Real World
One of the reasons our System Garages are so popular with councils and housing associations is the security features incorporated into each unit. To prevent vandalism, guttering is incorporated into the concrete panels themselves, and the garages are finished with our specially chosen aggregate to deter would-be graffiti artists. Our extra-thick interlocking concrete panels are manufactured to CP116 with steel reinforcement to BS4449. All materials are non-combustible and the garages satisfy the structural integrity of and flame penetration requirements of BS476 Part 1 1953 for half an hour. An example of the extreme strength of our garages.
In addition to the safety and security aspects of System Garages, they also incorporate durable, low-maintenance materials. Roofing is in plastisol-coated box profile steel sheeting for extra security, supported by our ultra-strong steel purlins, and treated with a factory applied anti-condensation fleece. System Garages will last a lifetime with the minimum of maintenance, saving time and money.
We reserve the right to change specifications without prior notice. A full up-to-date specification will be provided with your quotation.
To see our complete range of domestic sectional buildings, please visit our Leofric Buildings home page.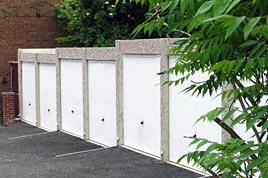 System Garages can be constructed in 'stepped' configuration for slopped sites.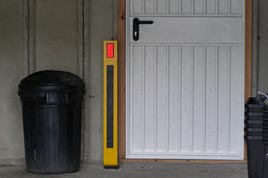 System Garages can incorporate pedestrian doors for easier access, and our innovative 'bumper bar' to prevent damage to vehicles.