Trader Garages
Practical & Highly affordable - without compromising on quality.
The Trader Garage is purpose designed for housing light commercial vehicles where the generous 3 metre eaves height is essential. Available in two widths and in single, twin and multiple format, the Trader is also ideal for secure storage, with access possible by most fork trucks.Competitively priced, Trader combines durability with minimal maintenance requirements.
Ideal for Industry
Trader Garages are highly versatile and can be specified to meet the diverse requirements of our industrial or commercial clients. With a wide choice of door options and finishes, and featuring our durable interlocking concrete panel system, we are confident that the Trader can meet your requirements.
We reserve the right to change specifications without prior notice. A full up-to-date specification will be provided with your quotation.
To see our complete range of sectional buildings, please visit our Leofric Buildings home page.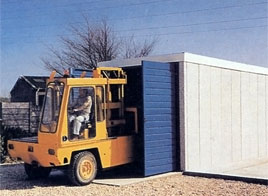 3m eaves height means access to the Trader is possible by most forklift trucks.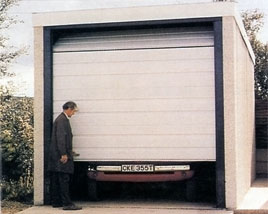 Trader Garages are available with a range of door options.